Unforgettable Backpacking!

Add an extra dose of comfort and flexibility to your adventure with an extra 10% discount!
Get the best ride for an unforgettable backpack!
Thinking of going backpacking soon? Add an extra dose of comfort and flexibility to your adventure with Enterprise Portugal.
Visit even more places in less time with a 10% discount for renting a car to accompany you on this journey of pure discovery.

Conveniently, by renting a car until December 14, you'll also add even more space to your memories.
With 9500 stations all over the world waiting for you, see you around?
Get to know our locations here.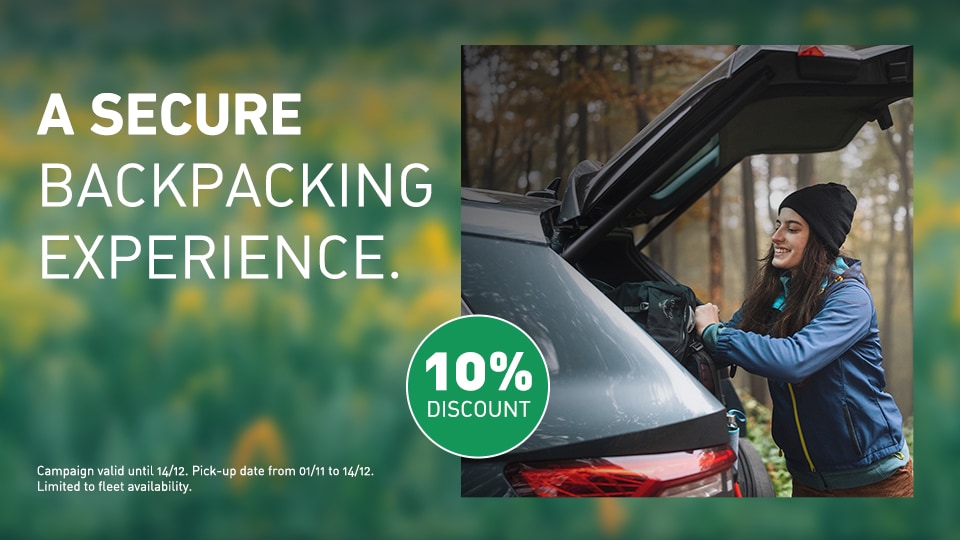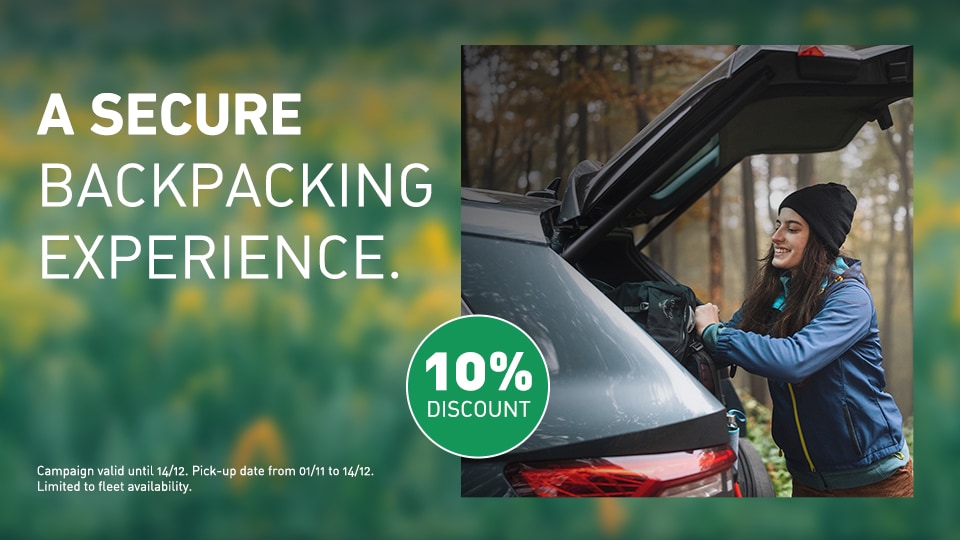 Albania
Armenia
Austria
Bulgaria
Corsica North
Corsica South
Croatia
Cyprus
Denmark
Egypt
Estonia
Faroe Islands
Finland
Georgia
Greece
Hungary
Iceland
Italy
Jordan
Kosovo
Latvia
Lithuania
Luxembourg
Malta
Montenegro
Morocco
Netherlands
North Macedonia
Norway
Oman
Poland
Portugal
Qatar
Romania
Saudi Arabia
Serbia
Slovenia
South Africa
Sweden
Switzerland
Turkey
UAE
Terms & Conditions
1. The Campaign includes a 10% discount on bookings made on the Enterprise Portugal website and for domestic bookings. This discount amount excludes complementary products, packs and other extra services or fees such as: fuel tax, additional driver, young driver fee, child seats, snow chains, among others; as it is an exclusive discount for car bookings.
2. This discount will be available at the Enterprise Rent-A-Car, National Car Rental and Alamo rent-a-car companies, only in Portugal. For further questions, please contact us to confirm the location of your reservation. This discount includes all airports and rental stations represented by the brands in mainland Portugal and the Islands.
3. This offer is valid for bookings with pick-up from November 11, 2023 until December 14, 2023. Without any limitation on the time period of the reservation.
4. This offer covers all groups available in fleet for car rentals.
5. The minimum driving age for rental is 21, except for off-road vehicles and luxury vehicles for which the minimum driving age is 25. Persons under the age of 21 but over the age of 18 may be authorized through the option currently called "Young Driver", upon payment of a supplementary fee in accordance with the price list in force on the date the rental begins.  The maximum driving age is 80.
6. The collection and delivery service is subject to geographical restrictions. For confirmation or further details, please contact the rental agency.
7. In the event that you need to cancel your reservation before 48 hours have passed, you will receive a full refund of the amount paid for the reservation. If you need to cancel your booking less than 48 hours before it is due, you will receive a 50% refund on Economy, Compact and SUV vehicles. In the case of other segments, you will not receive a refund.
8. This offer is limited to the vehicle availability and cannot be combined with any other promotional offer, discounted rate, previous or existing bookings.
9. This offer and these terms and conditions are in addition to and do not replace any terms of the contract in relation to your rental, which contains important provisions relating to the rental of any vehicle and which will continue to apply in full to the rental.
10. This offer and these terms and conditions, and any dispute or claim arising out of or in connection with them, are governed by the law of Portugal. If you reside in the European Union, you may bring legal proceedings in relation to this offer and these terms and conditions in the courts of Portugal or in a court of the Member State of the European Union in which you reside.
11. As a consumer, you will benefit from all mandatory provisions of the law of the country in which you reside. Nothing in these terms and conditions, including the paragraph above, affects your rights as a consumer to rely on such mandatory provisions of local law.
12. We strongly advise you to familiarize yourself with the local traffic rules in the country of destination of your rental. More information on European Union countries can be found at http://ec.europa.eu/transport/road_safety/going_abroad/index_en.htm.