Places to visit in Croatia at your own pace
Choosing which places to visit in Croatia can be a daunting task, as this country hides countless destinations that will leave anyone surprised by its paradisiacal landscapes. That's why we've compiled an itinerary with some of the best options for your trip. Read our guide.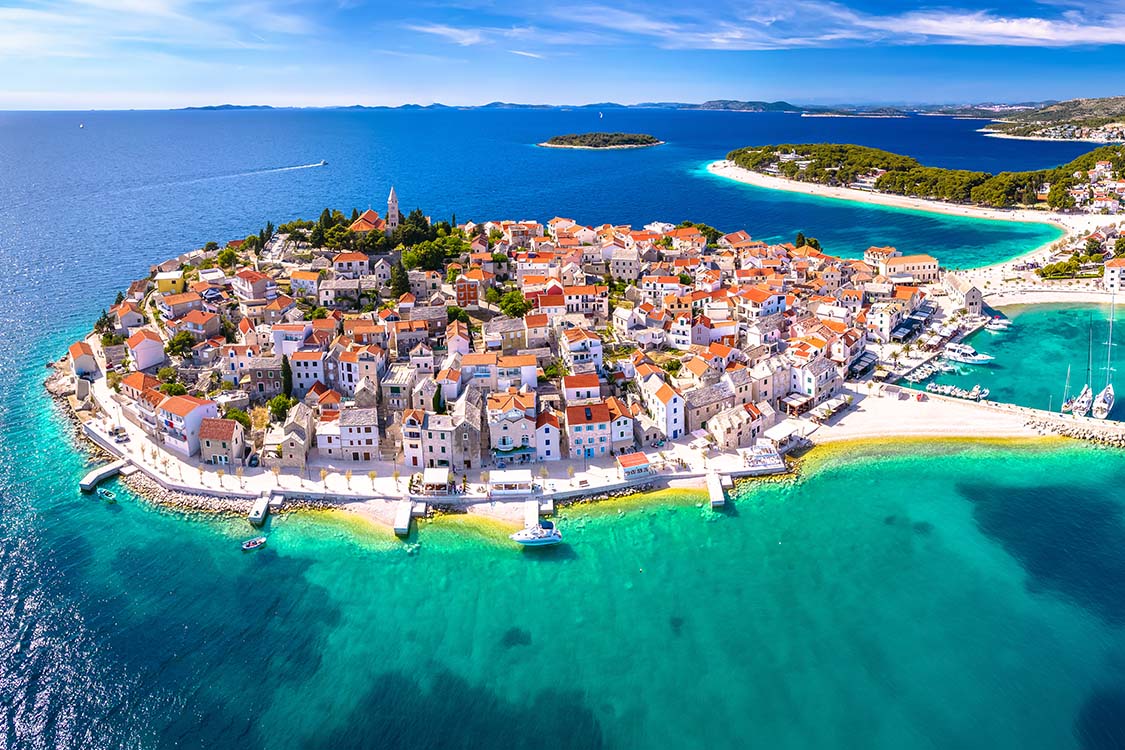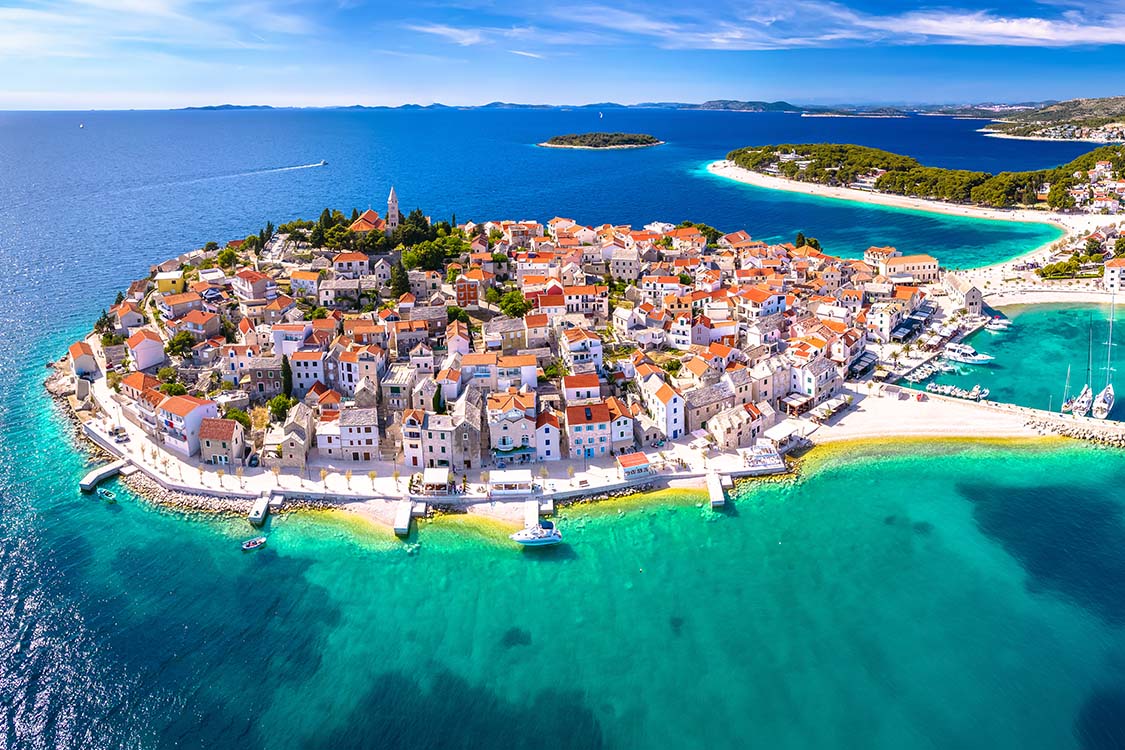 Croatia: a young country with much to discover
Croatia is one of the youngest countries in Europe. It's become a favourite with explorers from all over the world for its paradisiacal scenery, which has been used to shoot countless films and TV series.
With more than 2,715 hours of sunshine a year, 1,244 islands bathed by the Adriatic Sea and 10% of its territory occupied by National Parks, this country also offers us some of the most beautiful landscapes for travelling by car.
That's why we've put together three interesting facts about this country that will make you want to travel even more, before we tell you about the best places to visit in Croatia.
Home to the world's smallest city
You read that right. When you decide to plan your road trip through this country, one of the places to visit in Croatia should be the holder of the title "Smallest City in the World". Duly certified by the Guinness Book, this town has up to 30 inhabitants.
It has more than 2,715 hours of sunshine per year
Did you know that Croatia has more hours of sunshine per year than countries like Australia? The best months to travel in this country are from June to September when you'll find the most pleasant temperatures and the sunniest days.
It has around 800 beaches
If you're a fan of beach holidays, putting Croatia on your list of destinations to visit is a must! You see, all along the Croatian coast, there are about 800 beaches to sunbathe on, which are among the cleanest in the world. According to European Union standards, its water is 99.26% clean.
The best places to visit in Croatia
If you're looking for a destination for a holiday with friends or family, this country might just be the one for you. In addition to all the history and well-preserved cities, it combines the best of nature with some of the most renowned bathing options in Europe.
And as with any trip, sampling the local cuisine is a must. You can expect a wide range of options based on fish, seafood, molluscs, but also lamb, veal, pork and even ham.
Among the best cities in Croatia to visit, we have selected 5 that are truly unmissable. Here are some tips on what to discover in these Croatian lands.
Zagreb: Croatia's biggest city
Zagreb is the capital of Croatia, known for its vibrant pace and numerous museums. The beautiful historic centre is divided into two: the Upper Town and the Lower Town. This is where many places of interest reside, such as the Zagreb Cathedral, dating from 1903, the Maksimir Park or the Minara Museum, which houses more than 3,700 works of art.
You can also discover places such as the Mirogoj Cemetery, Lake Jarun, Novi Zagreb, Republic of Croatia Square, Tomislav Square and the Botanical Garden. Tkalciceva Street is home to many restaurants and bars where you can savour the best of Croatian food. 
Island of Brač
Among the best places to visit in Croatia, and about 5 hours from Zagreb, is the island of Brač, one of the most renowned in all of Croatia. It is the third largest island in the Adriatic Sea, about 48 km long, and can be found in the Dalmatia region. It has as neighbours the famous islands of Split, Hvar or Korcula.
Visit the towns of Supetar and Bol, the latter being where you will find more accommodation options and the well-known Zlatni Rat beach. You must visit the highest point of all the Adriatic islands, with its 778 metres, considered one of the most beautiful spots on the island: Vidova Gora. Be sure to discover Nerežišća, a beautiful town and stop by the Olive Oil Museum.
Island of Hvar
With scenery that looks like something out of a film, Hvar is one of the most charismatic places in all of Croatia. It offers a diverse landscape ranging from paradise beaches, lavender fields to vineyards.
Among the places to visit in Croatia, our selection falls on Hvar Town, with a historic centre dating back to the 13th century, marble streets, palaces, stunning Gothic churches and an imposing fortress.
Also discover Milna, Stari Grad and Jelsa. Visit Tvrđava, an old fortress that serves as a lookout point, where you can get a beautiful view of much of the island and is the best place to see the sunset on Hvar!
Dubrovnik
If Madeira is the Pearl of the Atlantic, Dubrovnik wins the title for the Adriatic Sea. Nowadays, this is possibly one of Croatia's most popular cities to visit. In part, this is due to the well-known series "Game of Thrones" also filmed in the city, which catapulted it to worldwide fame.
However, Dubrovnik deserves to be recognised for its rich heritage and history. Founded in the 7th century, it has been a UNESCO World Heritage Site since 1979. The historic neighbourhoods preserve the well-preserved ramparts and centuries-old streets.
During your visit, take some time to discover the Franciscan Monastery, which also functions as a museum, the Minčeta Fortress, which dates to 1464, the Stradun, one of the oldest and best-known streets, with numerous attractions and the Sponza Palace.
Split
Split is undoubtedly one of Croatia's must-visit cities. Like other Croatian cities, you can count on a place where history lurks around every corner, with an already cosmopolitan mix.
It is the second largest city in the country and the main link between the main islands of Croatia. With beautiful architecture as its ex-libris, and bathed by the clear waters of the Adriatic, on your visit to Split be sure to discover the magical Roman Diocletian's Palace, one of the country's UNESCO World Heritage Sites.
Croatia's best places to visit are within reach with Enterprise
There's so much to explore in Croatia, and there's nothing like getting behind the wheel of the best car for your trip. Take advantage of the Enterprise Passport, where you'll find plenty of tips for your travels.