From north to south find out where to spend holidays in Portugal.
How many times have you thought of renting a car and setting off to discover our country? The freedom to explore the back roads, to get to know the small villages and their traditions, to sit at the table of a typical restaurant and delight yourself with the local flavours?
Enterprise helps you to know everything you need to plan your road trips in Portugal and leaves you with a travel suggestion to make your next holiday unforgettable.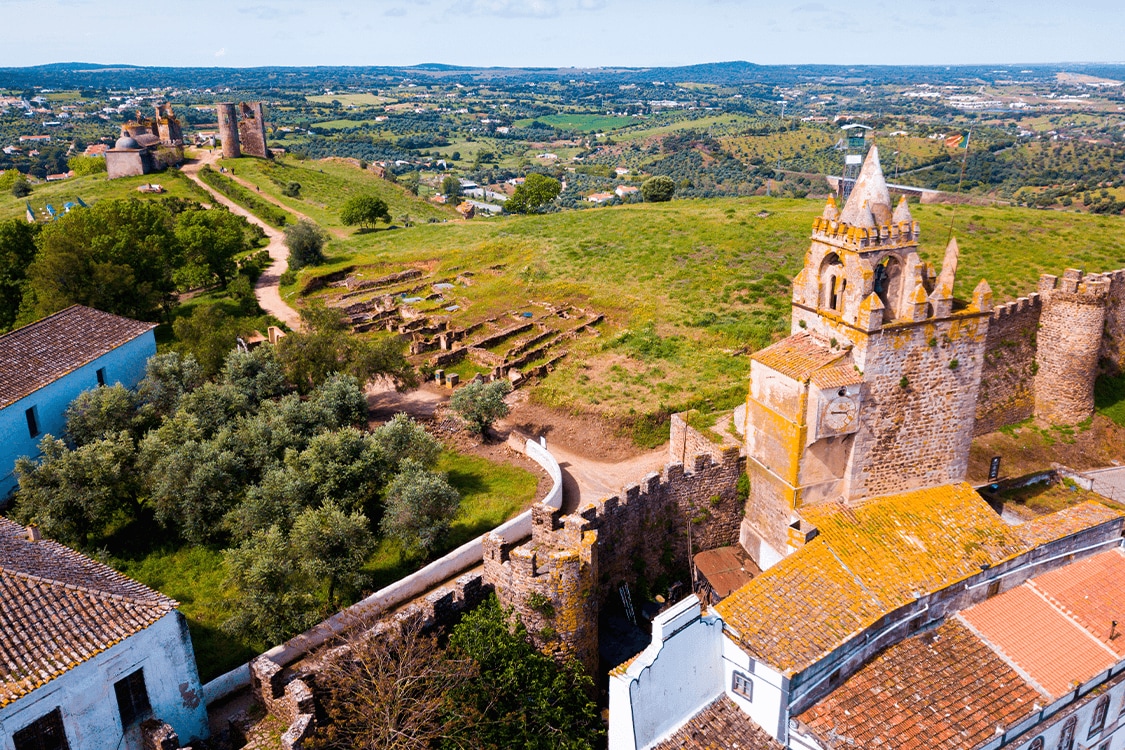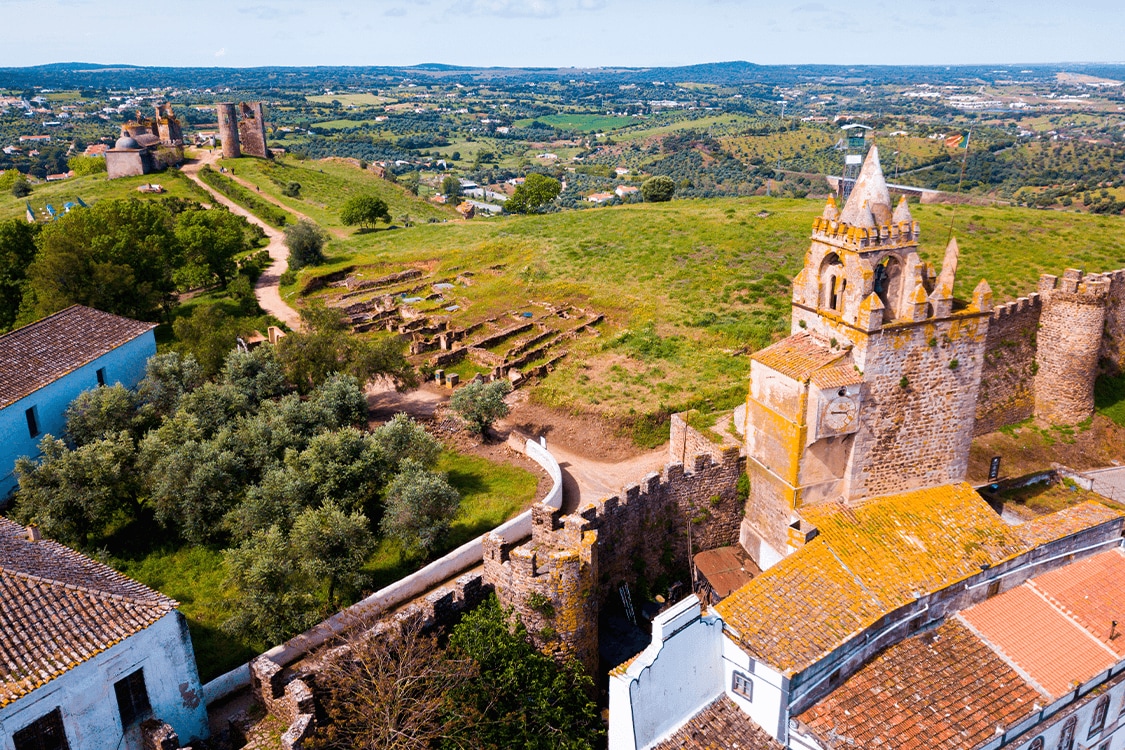 How to prepare your Road Trips in Portugal
There are several apps available to guide you through your Road Trips in Portugal. Making sure you don't get lost in the heart of our country, always knowing which the fastest way is to go or how far you are from a gas station or restaurant, are fundamental to make your trip more peaceful. We suggest you install Google Maps or the application Waze and if your car does not have a mobile phone charger, we suggest you buy a powerbank to go with it.
Have the ideal car for any destination
Select your destinations beforehand to ensure you have the right car on your side. If you choose to discover the most known mountains, your road trips in Portugal will require a SUV, if you make a more city trip, then you can opt for a more economical car. At Enterprise you will find all car segments, so that your adventures are made with all the safety and freedom.
Prepare some snacks for your trip
If you decide to discover the country by national or secondary roads, you may have some difficulty finding places to stop at any time to eat. We therefore advise you to take some snacks with you, to stave off hunger until you find a place to stop and venture into the local flavours.
Road Trips in Portugal: what to visit on the National Road 2
The longest national road in Europe and third longest national road in the world, it has given us some of the best landscapes in our country for over 75 years.
The historic National Road 2 was given this name in 1945. It covers more than 738 Km, connecting Portugal from North to South, from Chaves to Faro. It crosses 32 counties, 11 rivers, 4 mountains and a countless number of points of interest. Discover now our 5 days itinerary, with the best places of what will be one of the best Road Trips in Portugal.
Day 1: from Chaves to Viseu
Chaves: S. Neutel and S. Francisco Forts, Roman Bridge of Trajano, Nadir Afonso Museum of Contemporary Art, Castle, Vidago Palace Hotel, Pedras Salgadas Park;
Vila Real: historic city centre, House of Mateus;
Régua: trip to Pinhão, with a stop in Alijó, visit to the wine cellars of Quinta da Pacheca;
Lamego: Climb to the Castle, Sanctuary of Nossa Senhora dos Remédios;
Castro Daire: visit to the town centre, Montemuro mountain;
S. Pedro do Sul: Termas de São Pedro do Sul, Poço Azul, Serra de São Macário, Aldeia da Pena;
Viseu: historic centre, Sé Cathedral, Porta dos Cavaleiros, Viriato's Statue and Vault.
Day 2: from Viseu to Góis
Tondela: Fonte da Sereia, Penedo de Mouros Farm, Caramulinho, Caramulo Mountain, Museu do Caramulo;
Santa Comba Dão: Visit to the city centre; Aguieira dam, Bussaco forest (Luso);
Penacova: Moinhos de Gavinhos, visit to the Caldas de Penacova factory (water);
Vila Nova de Poiares: visit to Moinhos da Atalhada and a walk through the centre;
Lousã: Pedra da Ferida waterfall, Trevim swing, Candal, Castelo da Lousã, Talasnal, Casal de São Simão;
Góis: visit the centre and the river beach, visit the villages of Aigra Velha and Aigra Nova.
Day 3: From Góis to Ponte de Sôr
Pedrógão Grande: Padrões island;
Pedrógão Pequeno: Cabril Dam, Philippine Bridge;
Vila de Rei: Geodesic Centre of Portugal, Água Formosa village, Penedo Furado;
Sardoal: Moinhos de Entrevinhas, visit to the town centre;
Abrantes: Abrantes Bridge/Linha da Beira Baixa, Abrantes Castle/ Cine Teatro Alferrarede, Almourol Castle;
Ponte de Sôr: Retas Sul do Tejo, Pedestrian Bridge, Arts and Culture Centre, Tramaga Mills.
Day 4: Ponte de Sôr to Aljustrel
Montargil: dam with the same name; Coudelaria Dias;
Mora: Mora Fluviarium, Pavia Village;
Brotas: Torre das Águias, Sanctuary of Nossa Senhora das Brotas;
Montemor-o-Novo: Ermida de Nossa Senhora da Visitação, Grutas do Escoural, Porta da Vila, Torre da Má-Hora, Convento da Saudação, Castelo de Montemor-o-Novo;
Ferreira do Alentejo: village of Alcáçovas, Calvary Chapel;
Aljustrel: Aljustrel Mines, Pisões Roman Ruins, Messejana Village, Viewpoints all over the city.
Day 5: Aljustrel to Faro
Castro Verde: Windmill, Chapel of Our Lady of Aracelis;
São Brás de Alportel: Clock Tower, Costume Museum, Verbena Garden;
Faro: Palácio do Visconde de Estói, Capela dos Ossos de Faro, Arco do Repouso, Sé Catedral de Faro, Arco da Vila, Ruínas Romanas de Milreu, Teatro Lethes, Museu Marítimo Almirante Ramalho Ortigão.
Road Trips in Portugal via National Roads
There are more than ten thousand kilometres of national and regional roads to organise your own road trips in Portugal. Besides the countless options, there are several advantages associated to choosing this type of roads for your trips:
These roads allow you to make more stops along the way.
It passes through several cultural and regional points of interest.
They allow you to appreciate the landscape of the different regions.
The speeds are lower, which can help in making a safer journey.
With Enterprise you can rent a car in various parts of the country and set off to discover the best landscapes in the country. Use cities like Porto, Lisbon, Aveiro or Viseu as a starting point for your trip. Your only decision will be which will be the first of your road trips in Portugal.
Discover the best beaches in Algarve
Algarve is, for many, a synonym of gorgeous beaches, warm weather and, above all… vacations. Throughout the year, and especially during summer, many Portuguese and foreigners travel to the south of Portugal looking for warm waters, rocky landscapes and vast landscapes of sand.
Discover the best beaches in Portugal
With half of its territory surrounded by sea, Portugal is the perfect destination for those who are looking for beach, sun and mild temperatures most of the year. The undeniable beauty of our coast has brought us many awards from international entities, who consider our beaches some of the most beautiful in the world. However, the great amount of vast extensions of sand in Portuguese territory makes it even more difficult to choose the best beaches in Portugal.
From North to South, hop on this journey with us and discover the best beaches in Portugal to visit.
Rural Tourism in Portugal: the best places to visit
When we think about vacations in Portugal, we automatically think about beaches and coastal areas. Even though these are the "fan favourites" for many, Portugal has so much more to explore! The countryside is full of natural secrets ready to be discovered and that will guarantee you a journey with many adventures and unique experiences.
Leave the beach towel and sunscreen at home and discover the best destinations that rural tourism Portugal has to offer.